The new
ML Press
just put out 3 new chapbooks by the excellent Ken Baumann, Jimmy Chen, & Shane Jones, each in limited run (Shane's is already gone, sorry, and too bad, because the writing is something new). They are $2, and the others will be gone very quickly.
In the next couple weeks, I will have a thing out in the 2nd grouping with Nick Antosca and Brandi Wells (can we have a gang war?).
My chapbook is IN THE RAPE YEAR OF THE GHETTO TODDLER THE HOUSES WILL AWAKEN.
It's about babies and rape.
Shane Jones said it felt like listening to Slayer.
Other day watched new documentary BILLY THE KID on dvd. It's about a 15 yr old kid who has Asperger's in Maine. It was recommended to me as if GUMMO mixed with NAPOLEON DYNAMITE but was a real person. It was shot using cinema verite so you see the kid in his natural surroundings at school, where he is very awkward. The film does a pretty amazing job of capturing being a young outsider with social anxiety and a want for something in a small town. He says a lot of randomly brilliant shit. It's definitely worth a watch.
I wish I could go to this: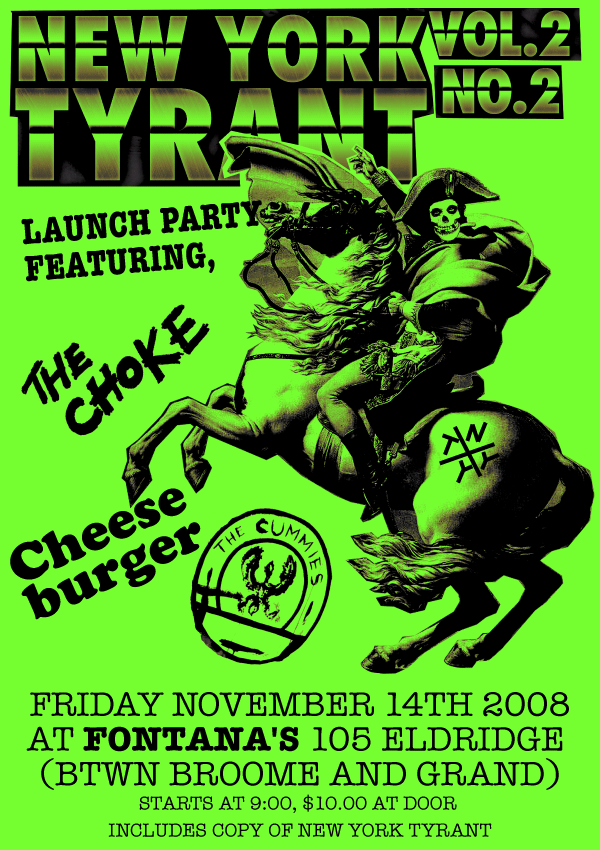 I am really excited about
TYRANT 5
.
I think about TYRANT 5 and my skin turns clear and I can see a bruised dog on my arm meat saying stuff.
I spent a couple hours yesterday reading about Robert Rauschenberg and his becoming as an artist, his years spent studying at Black Mountain (I wish they still had places like this, maybe they do) and hanging out with John Cage, doing weird performances and collage work. Reading his processes and his fuck-all attitude made me want to do more. I want to buy a letter press and make some limited edition books. I want to do
some other shit.
Note to self.
I wrote something that really made me feel nauseated the day before yesterday. I thought, "I am on to it now."
OK