I think my loft's front door unlocks itself. Most nights I check sometime before I sit down the final time. Many mornings the door is unlocked.
Yesterday I saw a woman with a wooden eye, she winked at me, no shit.
'Blake Butler' is a pseudonym.
I don't think I should explain.
I wonder if how I feel a lot of days now is how a heroin addict feels, partially, though while on the way down.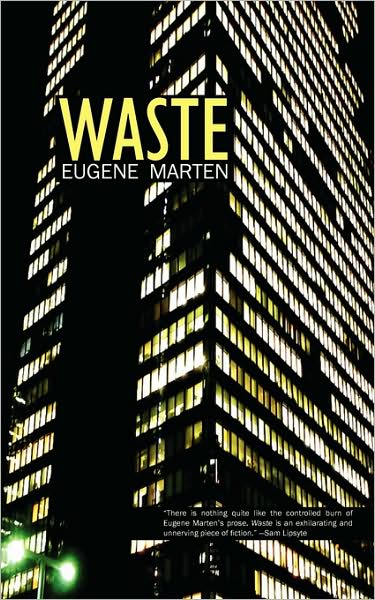 I read
WASTE
by Eugene Marten (brand new from Ellipsis Press) day before yesterday, I am most impressed by Marten's ability to write about overlooked everyday people in a way that makes their lives seem layered like a secret door, like every person is a door into some small compartment where they keep things they value, where they sleep. WASTE is maybe a 2 hour read and will jar your teeth out some, no, really. It has a blurb by Gordon Lish, what do you think about that. It is about a janitor who goes around in this one buildings working with trash. I will read anything Eugene Marten's for the rest of my life, I feel like he is important. His sentences are sentences in the realest application of the word, in that each one kind of condemns itself on the paper or in you in your own mind. I would buy this book (and the also brand new FOG & CAR by Eugene Lim also from Ellipsis, which I am reading next) if I were you.
It seems like whenever I am getting close to the last 10 pages of a book or so, that's when all hell breaks loose, the phone starts ringing, people want to talk to me, there are things looming, that always happens at the end of books, even if I make a point to hide somewhere where no one can interrupt, so now when I get to the last few pages of a book I often start to feel an extreme sense of anxiety.
This same phenomenon also tends to occur when I am taking a shit.
I took two laxative pills the other night to see what would happen. You are supposed to take them when you go to bed and then you'll wake up and expunge. Instead I woke up with awful stomach pains and it constipated me, I was crying a little, I brought my computer into the bathroom so I could look at things while I 'worked,' I am sure you are very interested in hearing about this.
Little things are beginning to become the most severe points of contention in my mind.
I had to stop underlining passages I like in THE BATTLEFIELD WHERE THE MOON SAYS I LOVE YOU literally because I would pretty much just be underlining the whole fucking book, no joke, every line.
'reached up under your dress and got the nation sack' 'pew of deacons' 'dripping through a wound like a virgin's piss'
NO COLONY
release party next Friday at Barbes in Brooklyn is beginning to become like a mini-internet summer camp meetup, the list of attendees is growing, I am excited. If you live in NYC, please spread word by blogging, etc. Info is on No Colony website.
I think coffee is beginning to have adverse effects, I am becoming dependent, and yet I am starting to not like the feelings.
Yesterday at a coffee shop, very blitzed on caffeine and sitting next to an extremely loud black woman who was on the phone shouting at the service provider of her website, or shouting at the woman next to her about the photos they were editing of severely stylized black models, I began to find myself inside this other woman, psychically rather than in the body: