Lynch is working on a new film already. It's weird, beyond his weird. It's a documentary about spiritual enlightenment that follows his book tour for CATCHING THE BIG FISH. I guess he had to do a documentary sometime. Here's a little blurbette I found from Hollywood Today:
'Four time Oscar nominee David Lynch told Hollywood Today that he is working on a new film "Catching The Big Fish,'' a road movie shot about his dialogues with regular folk on the meaning of life, with the likes of 60's troubadour Donovan and John Hagelin, the physicist, as traveling companions. The "Lynch-esque''documentary is another example of this Cannes Festival winner's visionary take on creativity. He notes he traveled the globe with his multi-camera crew looking to catch his next big fish, and in keeping with his surreal film and TV past, says his plan was no less than to explore the world's mind. He concludes that "people have a right to be happy but they don't know it. A lot of artists are attached to the idea that to create one must suffer and live in pain. I used to have a lot of anger and depression but when you have a constant migraine, you can't create anything and Transcendental Meditation has really taught me that."'
That could either be a huge mess or really good.
We watched WILD AT HEART again the other night. Probably my least favorite of his films, though has some of the best moments and characters. You can not beat Willem Dafoe as Bobby Peru,
except with Crispin Glover as Cousin Dell:
I wish he'd spent more of the film with Cousin Dell. He should make a whole movie around Crispin Glover. That would be unbeatable.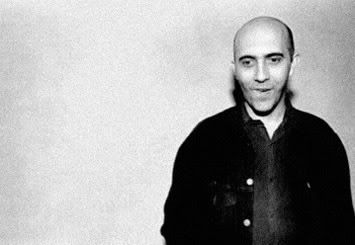 Also stoked about a new Gaspar Noe movie being filmed, finally. I really liked IRREVERSIBLE, even though most of its press rolled off the 10 minute uncut anal rape scene and the guy earlier getting his head beat in with a fire extinguisher. The shots in the film are incredible and hallucinatory and brainnumbing, and explore space in the way I most respond to. Noe is not afraid.
Even more so than that though I like his first feature I STAND ALONE, which kind of takes TAXI DRIVER and injects it with some kind of superfucked aggrometh that I know nothing about. Basically it's just the guy walking around talking about how much he hates everyone in the world and going into these weird buildings and all these weird camera moves that make you jump or squirm, but unlike anything else you've really seen. Seriously, completely devastating movie that makes you feel like someone is wrapping your head with wire while you watch it.
Noe's new movie sounds equally incredible, according to some website I found: 'It is known that it will be a very free adaption of "The Tibetan Book of the Dead" and that it will be focused on drug trafficking. Noé considers the film "really psychedelic, beyond reality - like Ken Russell- and "Jacob's Ladder"."'
An adaptation of the Book of the Dead? Psychedelic beyond reality? Ken Russell?
Let's go.